This is the fifth and final post in a series on recommendations I would make to someone at the beginning stages of deciding to use their business as a platform for Christian ministry. While this list of recommendations is not exhaustive, it should be a great start on which to build. Today's recommendation is (again) to pray!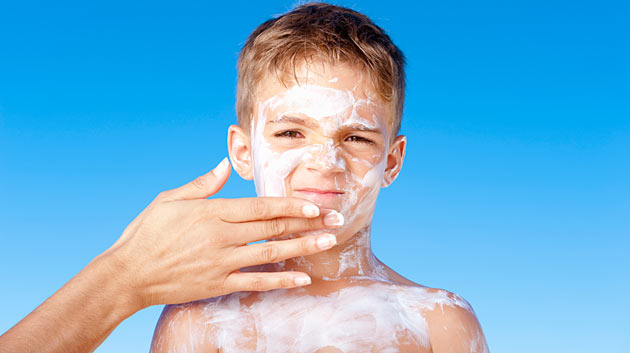 Sunscreen Battle
If you have kids, you have probably experienced the sunscreen battle. You go to the beach, pool, or lake and plan to spend the day. One of the first actions you take is to slather them up with sunscreen – the highest SPF you can find, right?
After you have been there for several hours, you ask them to come to you so you can apply more sunscreen. They whine and attempt to refuse, saying they have sunscreen. "Remember? You put it on when we first got here!"
One Application Not Enough!
Of course, with a calm and measured voice you ask again, explaining that the initial application you gave them has now washed off and they need more. Back and forth you likely go until they are close enough for you to physically reach them.
Then, like a frog's tongue, your arm streaks out and grabs them. You pull them in and apply the cream as they wriggle and squirm. If you have missed this experience, then you at least have witnessed this scene unfold with others around you, right? You know exactly what I am talking about!
How Is This Related?
Of course, you may be familiar with the scene, but you are likely still wondering what this has to do with using a business as a platform for Christian ministry. You think I may have gone a little off track.
Actually, I think this picture has a lot in common with our discussion on Christian business. Before I get into the details, let's look back at the first four recommendations in this series.
New Christian Business Advice
In each of these posts, I have attempted to describe what I believe are the most critical actions you can take if you are interested in running a Christian business. While each of the first four posts were distinct, I am going to risk repeating myself a little in this fifth and final post.
Going all the way back to Recommendation #1, I suggested you pray for clarity of purpose, strength, and commitment. I also suggested you give thanks for the position into which God has placed you. Of course, I believe these prayers are critical to your ministry.
At the same time, I believe that prayer has a lot in common with sunscreen. One application is NOT enough! Prayer is something that we need to reapply every day! Paul tells us to pray constantly…does that sound like one application?
Recommendation #5 – Pray Again!
Let me repeat that again: One application of prayer is not enough! Instead, you need to accept the concept that you will need an ongoing commitment to pray. For those who are serious about seeking eternal impact from the operation of their business, the commitment to pray is an absolute must!
When we pray, we commune with the Creator. He created us and He created business itself. Given that, does it not make sense that He can best direct us in a way that will produce the greatest impact?
Pray For Specifics
While I could just leave off there and have made my point, I will go on to give you specific topics that I believe are critical for you to cover when you pray. Again, my list is not exhaustive. Hopefully you will add to it over time. At the same time, you will be ahead of the game if you start with these.
Clarity of Purpose – Yes, this was already covered in Recommendation #1. The difference this time is that you are praying for God to keep this clarity in the forefront of your mind. You should pray for reminders in your spirit of the "Why" that drives you and gives you the energy to continue.
Strength and Commitment – Again, this was already covered before. Again, it will become more and more necessary as you progress into the territory of the enemy! Your quest is one of conquest and the opposition will intensify! Be prepared for this and make sure you pray for the necessary endurance.
Humility – At some point, you will likely see success in your efforts. It may happen instantly or it may take more time than you ever expected. Either way, pride is an easy trap to fall into. It will be tempting to take credit or accept praise when your ministry begins to bear fruit.
This is when you have to go back and read John 15. This is a reminder that you are only the conduit that Jesus is using. You are not the source of the fruit – He is. Keep that in mind and you will maintain a healthy perspective. You will also remain teachable.
Wisdom – You are simply crazy if you do not pray for wisdom. In both James and Proverbs, we are clearly told we will receive wisdom if we ask for it. If Solomon asked first for wisdom when faced with leading God's people, then we should follow his example in our business.
Romans 8:29 – While most people like to quote Romans 8:28, verse 29 is one that I think is more important to remember. God wants to conform us to the likeness of His Son. We should pray that He is doing this on a daily basis. We should pray that we are allowing ourselves to be molded in that way. The more He is able to do this, the greater our impact will be in all we do.
Matthew 25:21 – Keeping the end goal in mind is a tremendous motivator. That is part of the reason to pray for clarity of purpose. But another way to do this is to pray this verse from the Parable of the Talents – when Jesus is talking to the servant that multiplied his talents.
Jesus says, "Well done, good and faithful servant." If we will pray regularly for the opportunity to hear the same thing, then I believe our decisions, motives, and actions will fall more into line with His will.
What would you add to this prayer list?
Are you consistent in praying like you think you should be?
What should you change about your prayer life?
Similar Posts: